Can Ontario Optometrists Prescribe Contact Lens Prescriptions?
Finding the right contact lenses can be challenging—the prescription can also be complicated depending on any vision issues you may have.
Booking an exam with your optometrist is the first step to finding the right contact lenses for you.
But, what are the different types of contact lenses? And can your Ontario optometrist prescribe the right custom prescription for you? Let's take a closer look.
Types of Contact Lenses
Depending on any vision issues, your contact lens prescription can be complicated. You'll require a specific type of lens that coincides with your prescription.
But first, it's important to explore some of the different types of contact lenses that may be right for you.
Soft Contact Lenses
Soft contact lenses are made of soft, flexible plastics—allowing oxygen to pass through to the cornea. Soft contacts can be easier to adjust to and more comfortable than rigid gas permeable lenses.
Newer soft contacts materials are made of silicone-hydrogels which provide even more oxygen to your eyes while wearing them.
Rigid Gas Permeable (RGP) Contact Lenses
Rigid gas permeable lenses (RGP) are more durable and resistant to deposit buildup than their soft contact counterparts. These lenses also generally give a more clear, crisper vision experience.
While RGP lenses tend to last longer and are easier to handle, they aren't as comfortable initially as soft contacts. It may take a few weeks to get used to wearing them.
Extended Wear Contact Lenses
Extended wear contact lenses are used for overnight or continuous wear ranging from 1 to 6 nights or up to 30 days. The length of continuous wear depends on the lens type and your optometrist's evaluation for your tolerance for overnight wear.
These are usually soft contact lenses made of flexible plastics that allow oxygen to pass through to the cornea. Although you can wear these contact lenses continuously—it's important that your eyes rest from wearing them.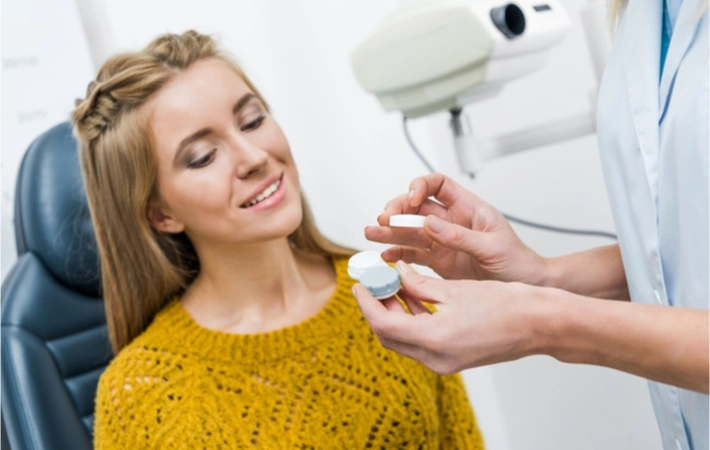 Disposable Contact Lenses
These lenses are soft contacts and are disposable on a replacement schedule. These disposable contacts are meant for single usage and discarded. This single usage process is an excellent solution for people who don't want to clean their lenses daily.
Disposable lenses are not to be continuously worn, and it's important to discard them after every use to avoid any eye infections.
Scleral Contact Lenses
Scleral lenses are larger in diameter than traditional contacts. They're ideal for irregular corneas or other issues, including dry eyes.
Scleral lenses cover the whole cornea and allow for space between the cornea and the back surface of the scleral lens, allowing for a fluid reservoir to provide comfort for people with dry eyes.
With some of the contact lens types in mind, let's explore if your optometrist will be able to fulfill your prescription.
Prescription Contact Lenses
So, you head to your local Ontario optometrist's office searching for an existing contact lens prescription or needing a comprehensive exam and a new prescription.
You may be wondering if your optometrist is qualified to conduct an exam and prescribe your new prescription all in-office.
The answer is yes.
Your optometrist will conduct a contact lens exam that takes a little longer than a standard eye exam. The exam will be comprehensive and cover various measurements and discover what you're looking for in contact lenses.
Your overall eye health will play a part in determining the best lens for you.
To fulfill and determine your ideal prescription—your optometrist may conduct follow-up appointments to ensure it's the perfect fit for you.
Looking Out For Your Vision
Your eye health requires consistency and a great way to do that is to stay on top of your prescriptions. Whether you're getting glasses or prefer contact lenses—your optometrist can guide you through a comprehensive exam. Book an appointment with one of our Toronto optometrists today to learn more about the contact lens prescription process.