How to Find an Optometrist and Eye Doctor in Toronto
Being in a new area and environment and looking for a new Toronto optometrist or eye doctor can be stressful. There are different types of eye care specialists, so choosing the right one for your needs is essential.
Let's explore some things you should look out for, including the different types of eye care specialists and some factors that can inform your search.
The Difference Between Specialists
Searching for a new eye doctor in Toronto may cause you some confusion. You must navigate the different types of eye doctors whether you need an optometrist, an ophthalmologist, or an optician.
It's normal to be confused, so how do you determine what eye care professional you should go to? Let's take a look.
Optometrist
An optometrist is an eye doctor who has a Doctor of Optometry (O.D.) degree, which requires about 7 to 8 years of post-secondary education.
Optometrists are healthcare professionals who provide primary vision care, including:
Vision tests and eye exams
Prescribing and fitting corrective lenses
Identifying and monitoring eye conditions
Treating common eye issues
Offering vision therapy
Some conditions optometrists can treat include:
Glaucoma, a disease that damages the optic nerve
Age-related macular degeneration
Cataracts, which cloud the lens of your eye and lead to vision loss
Optometrists cannot perform eye surgery, but they can prescribe medications and treat eye diseases.
You can expect a thorough eye exam when going into your Toronto optometrist's office.
Ophthalmologist
Ophthalmologists are medical doctors specializing in diagnosing and treating eye and vision problems.
Where ophthalmologists differ from optometrists is that along with providing eye exams, vision testing, and prescriptions for glasses or contact lenses—they can perform eye surgery and provide follow-up care.
Some conditions an ophthalmologist can treat include:
Amblyopia (lazy eye)
Dry eye disease
Macular degeneration
Refractive errors (nearsightedness, farsightedness, etc.)
Retinal detachment
These conditions can require surgery, and only a qualified ophthalmologist can go through that process with you.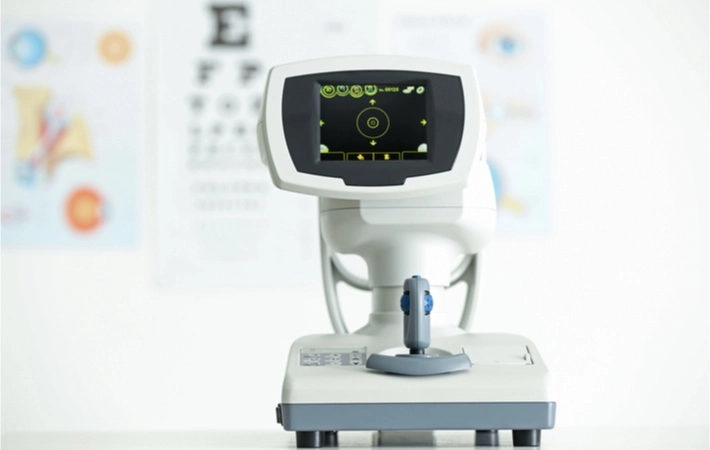 Optician
Opticians can help you choose frames for your glasses and provide information about different types of lenses and lens coatings.
Opticians usually work in customer service roles and focus on the world of providing and dispensing optical aids.
Opticians differ from optometrists and ophthalmologists because they cannot give eye exams, write prescriptions, or diagnose and treat eye problems.
Knowing your eye care professionals can help narrow down your needs and what you're looking for.
Choosing an Optometrist or Eye Doctor in Toronto
So, now that you know the differences—choosing the right eye care specialist for you comes down to need.
Doing your own research and asking around, especially if you're in a new environment, is essential. Your eye care needs come first, and choosing the right eye doctor or optometrist will come down to any specific issues you may be dealing with.
You may need a comprehensive eye exam to determine your overall visual acuity. Or just a routine check-up to determine if your prescription glasses or contact lenses are changing.
Whatever it may be, doing your research and browsing the credentials of your chosen Toronto eye care centre is essential.
What to Consider
Paying close attention to your interactions with any prospective Toronto eye care clinic is important—some questions you'll want to consider include:
When calling to make an initial appointment, was your call taken quickly?
Did the office staff you communicate with seem knowledgeable?
Was the availability suitable for your schedule?
Do you need an eye care office that operates on weekdays and weekends?
Do you require a clinic that performs children's eye exams as well?
It's important to consider the environment of the eye care clinic you'll be starting a relationship with, ranging from quality to services provided.
Figuring out what's important to you is the first step to any successful partnership with your chosen optometrist or eye doctor's office—your needs come first!
Taking Care of Your Vision
When choosing an optometrist and eye doctor in Toronto, it's crucial to know what you're looking for and do your own research before deciding. Eye care clinics offer various services and treatments—it's just up to you to determine what you need.
Book an appointment with our Toronto eye care clinic today and learn more about any exams or services you may need.